The Skippers
The Skippers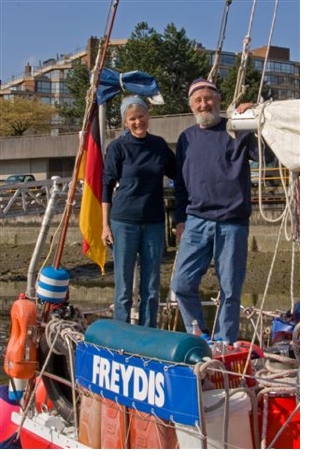 Erich Wilts…
… business graduate born 1942 in Lübeck, grew up in Leer. After studying in Hamburg, he worked for 23 years in this job, the last seven years as a manager of a purchasing and marketing association in Dusseldorf.
Sailing from childhood, as a pupil with his own wooden dinghy  on Ems and Dollard. The deep-sea sailing, he learned while studying from the bottom up on the then motor-less boats "Hamburg" and "Ortac" of 1904 by Albert Ballin, launched "Hamburg Maritime Association. His passion for adventure sailing in high latitudes, he discovered in 1964 on his first trip around Iceland, as a member of the crew of the vintage racing yacht "Ortac". 1965 crew member of the first German team in sailing at the "Admiral's Cup" in the English Channel. Later he moved with his wife on vacation trips with their yacht FREYDIS again in the waters of Iceland, Greenland and Svalbard. The first foray into the Antarctic was 1981/82.
Since 1990, Eric and his wife Heide Wilts have dedicated themselves entirely to sailing and have since been traveling the seven seas. Erich Wilts documents their journey in extraordinary photos. His images have appeared among others in GEO, Stern, Life, Times, Le Figaro, Terres Sauvages, No Limits and numerous sailing magazines at home and abroad. On his pictures he was awarded the International Prize for Photography Skubin Marian / No Limits Award in Milan.
… And Dr. Heide Wilts …
… born in Stuttgart in 1942, grew up in Germany and South America and is a doctor in general medicine and radiology. For 40 years she sailed with her husband Eric in the most extreme areas on earth. Her joy for sailing and the original nature with wildlife, but also associated with these travel hardships, dangers and fears are reflected vividly in her exciting reports and books.
She became internationally known through her books. Together with her husband, she has also written four large-format illustrated photo books.
Links: